How wealth and nation penetrates the world
Natural resource, science and technolgy, currency power makes the nation competitive in global society. Dominating nation is changing in centuries. Also dominating company is changing in decades. TANAAKK carefully review centries of super nations rise and fall to predict what economy system will come after decades.
There is uncertainty in the world but we can better understand and handle that time travel by wisdom of human history.
Jul 10th 2023
CEO TANAAKK
Shoichiro Tanaka
Disruptive Innovation
May 1st 2020
In recent years, low cost device, submarine cable and WAN, so called "Cloud computing" changed every cost structure in information technology. The free computing resource and low cost device made OSS community for coding and hacking. Attacker or even non engineer can access the brightest skills and knowledge. That changed how we learn. As I brought CYBERGYM from Israel to Japan, the top talent can knowlege-transfer world's leading ethical hacking and incident response in a year. ImmuniWeb, AI PTaaS that I brought from Switzerland to Japan. That solution is 10 times cheaper than other offerings in Japan three years ago and we have got 300 new customers in three years.
That change was accepted as scaptical and strange by anybody 3 years ago but gradually my challenge in Asia penetrates market.
CEO TANAAKK
Shoichiro Tanaka
Big Dream, Small Luggage
 世界のGDPは1970年にUSD 2.9Tn(約1,044兆円 $1=¥360)でした。2020年の世界のGDPはUSD84.7Tn(約9,317兆円 $1=¥110)となり、50年間でドルベースでは29.2倍に、年率6.98%のCAGRで成長しました。全世界の運用資産(AUM)は2016年の84.9兆ドル(8490兆円)から2025年の145.4兆ドル(1京4540兆円)まで10年間で1.71倍に増加しています。
 50年間でアメリカのGDPは1970年のUSD1.07Tnから2020年のUSD20.93Tnまで成長。ドルベースで19.56倍に、年率6.12%で成長しました。アメリカの上場企業価値評価指標であるS&P500インデックスは1970年の92.15ドルから2020年の3,756.07ドルまで、40.8倍(年率7.7%)で米国GDPよりアウトパフォームで成長しました。50年間でNYSE上位企業の8割は入れ変わりますが、世界の変化に対応し、バークシャーハサウェイ、マイクロソフト、テスラ、アマゾン、グーグル、フェイスブック、NVIDIAなど一部の企業に至っては期間内に10,000倍以上(年率20.2%以上)の成長を記録しています。

 一方日本の上場企業価値評価指標である日経平均の1970年12月終値は1,987.14円で、2020年12月終値は27,444.17円。50年間で13.8倍(年率5.4%)で米国に比べ大きくアンダーパフォームでした。この背景は、米国と日本のイノベーションエコシステムの違いでしょう。

 TANAAKK(タナーク)は世界における数百年にも及ぶ覇権国家経済の成長と衰退の歴史を踏まえることで世界の発展のボトルネックを特定し、機会の不平等を是正し、より住みやすい地球を子の世代、孫の世代に引き継ぐことを存続目的としています。

 時代を担う企業は、科学技術の実験と同様に何千回、何万回、何億回の試行錯誤の過程で生まれてくるものだと思います。TANAAKKは、先人の試行錯誤による結果の相違と、複利の威力を真摯に受け止め、次の50年間で時代のシンボルとなる100兆円企業グループの構築を計画しています。西暦2100年(第87期決算)の時価総額1000兆円(営業利益100兆円)に向けて、テクノロジーの力でよりよい暮らしを作るべくグループ総出で日々尽力しています。
令和2年(2020年)5月1日
Tanaakk株式会社
代表取締役 田中 翔一朗
Multiple Waves that changed the world
Global GDP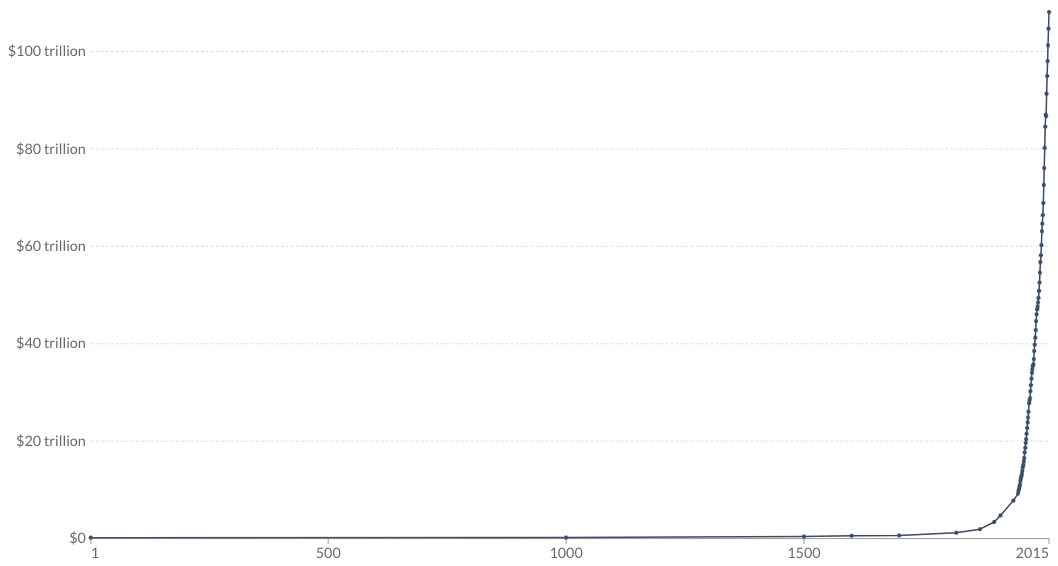 US GDP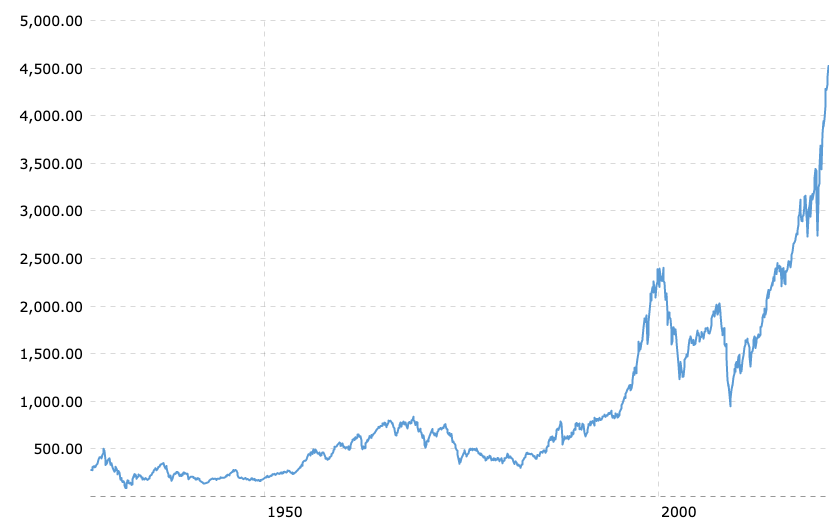 Japan GDP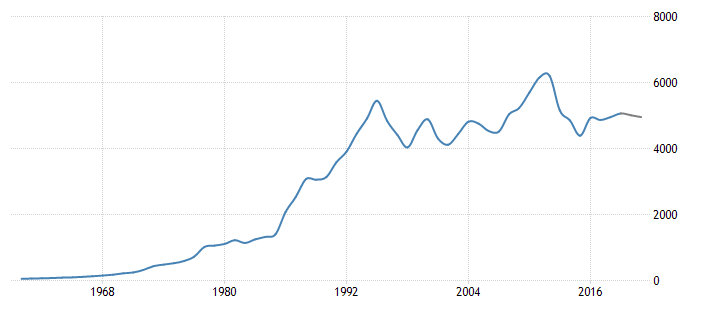 S&P500 Index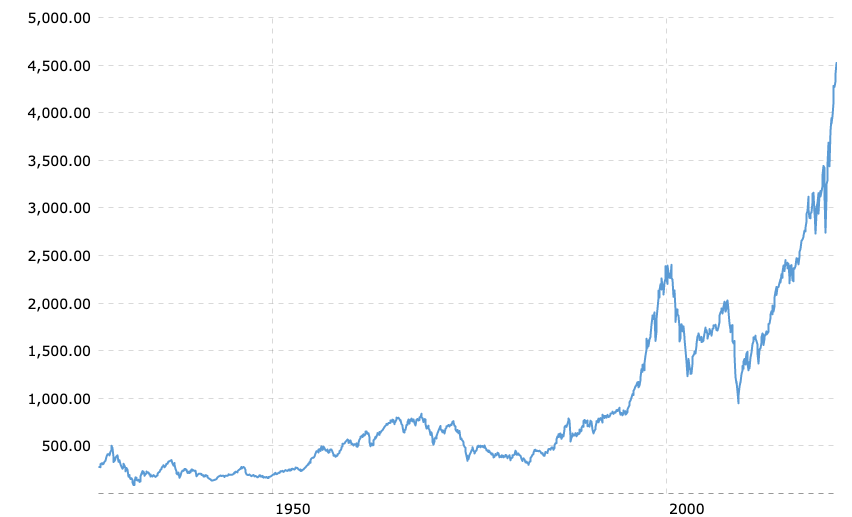 Gold USD/oz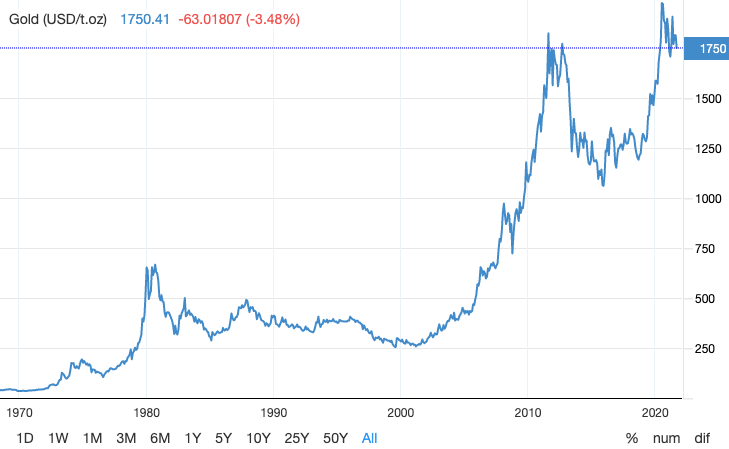 Cryptocurrency